Welcome to Maxitrak
Maxitrak was founded in the summer of 1978, and in those early days we were armed with little more than enthusiasm and vision and only one single loco.
Today we offer what surely must be the widest range of miniature road and rail locomotives available from one single company.

Visit our sister company for all of your model engineering supplies.
Your one stop online engineering shop!.
Visit Maidstone Engineering
---
Maxitrak Latest
The Midland railway had a long history of 0-6-0 freight locomotives going back to the Victorian period, the final version of the locomotive type was the Fowler designs 4F. The first example was built in 1911 and was in batch product from this date right up to the 1940s, some examples were built by outside contractors rather than the Midland Railway or the LMS.
View Locomotive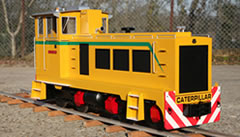 ---