---
Firstly we would like to start this post by wishing all of our Maxitrak customers, old and new, a happy new year. With our 40th anniversary having just passed it is because of our fantastic customers that we can continue to do what it is that we love doing. What is it that we love doing? Well bringing you fantastic new locomotives of course!

We are kicking off 2019 with a big yellow (and maroon) bang in the shape of our EM Baldwin diesel locomotive. These engines were constructed by EM Baldwin and sons of Castle Hill, New South Wales, Australia.
The company supplied smaller locomotives for industry from the 1950s to the 1980s. Designs included shunting, mining and tunnel locomotives but the most common surviving engines were built for the Queensland sugar industry. At this time the extensive 2ft gauge lines were changing from steam to diesel traction. EM Baldwin built a large number of the replacement diesels to a continuously evolving design, to the extent that there are hardly two alike. Engines and gearboxes varied depending on power requirements and supplier's delivery dates etc.
The usual sugar industry livery was bright yellow with red and white striped buffer beams, many enjoyed further enhancement with coloured stripes and panels giving the modeller many opportunities to customise the standard colour scheme.
Many of these engines are still hard at work in the cane cutting season and form the backbone of the largest surviving 2ft gauge industrial railway system in the world.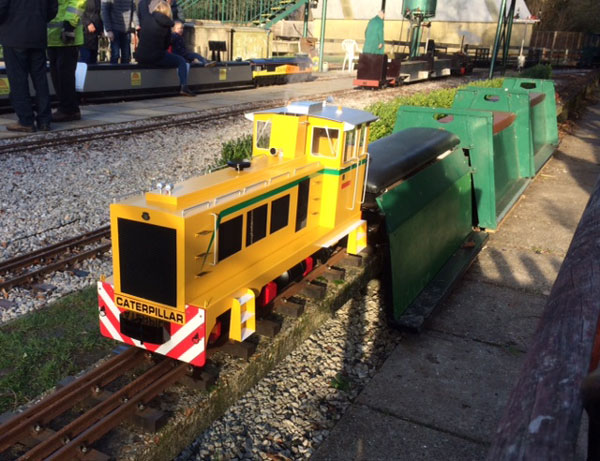 Our showroom locomotive 'Borcknel', (No the name doesn't mean anything, it was a plate we had spare and has now become a bit of an inside joke.) made it's debut at the SSME meet at Leatherhead just before Christmas. 

The big yellow monster definitely turned a few heads and quickly got to work pulling people around the track. With the ability to pull up to 8 adults on level track it has double the hauling capacity of our 5" Planet. 




When we were deciding on how we could improve our loco we decided a vinyl stripe in green and the Caterpillar badge would be an interesting choice, but as with the real-life engine, the customisation options are only limited by your imagination. We have also been working on the optional extra of the smoke machine. It certainly adds a bit of flourish.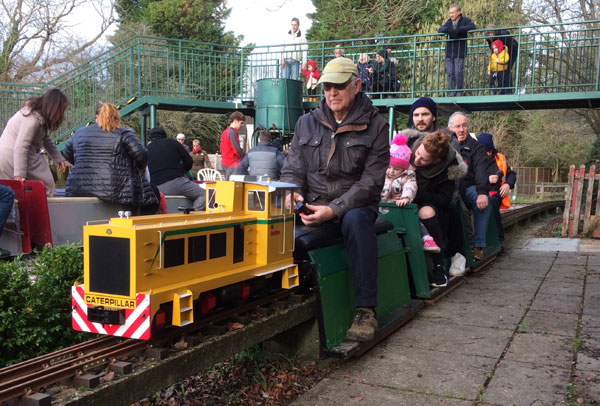 Thank you to everyone who has sent us their pictures and don't forget you too can share your photos by emailing them to Info@maxitrak.com with the subject line 'Share Station'
---
© Maxitrak Ltd
10-11 Larkstore Park,
Lodge Road,
Staplehurst,
Kent,
TN12 0QY
Email: Info@maxitrak.com